Member Site Login Instructions
Member Web Site
We are using a new system for the directory and other member information that meets our needs better. In the process, a decision was made to eliminate having our congregation being responsible for maintaining yet another authentication system that has to be constantly updated to protect against hacks or other security vulnerabilities that put the personal information of our members at risk. Additionally, it has been a constant struggle to keep up with members forgetting their accounts / passwords.
When the congregation was surveyed, the results showed that 70-80% of the congregation already had at least one account with one of the identity / authentication providers (Google, Microsoft). This means one less login/password that has to be remembered if you already have one of those accounts.
IMPORTANT NOTE: If you already have a Google, or Microsoft account, then the e-mail address associated with that account must be present in the Cy-Fair directory. If it's not the same address, please contact Grady and he can help you.
If you do not already have one of these accounts, then I recommend creating a Microsoft account. It is the easiest, and requires you to provide no additional personal information to setup the account. Cy-Fair uses Microsoft Office 365 and Microsoft OneDrive for all of our congregation file storage, including lesson material, so anyone that is going to do any kind of work there will ultimately need to have a Microsoft account.
Both Microsoft and Google will allow you to create a new account and NOT create another e-mail address — you can use your own existing e-mail address.
Creating a Microsoft Account
(Step 1) Open the following link in your web browser:
https://login.live.com/login.srf?lw=1
(Step 2) Click the "Create one!" link below the "Next" button.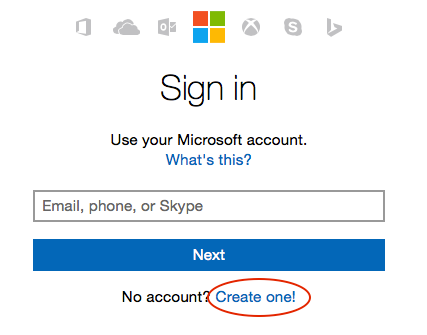 (Step 3) On the following page, click the "Use your email instead" link: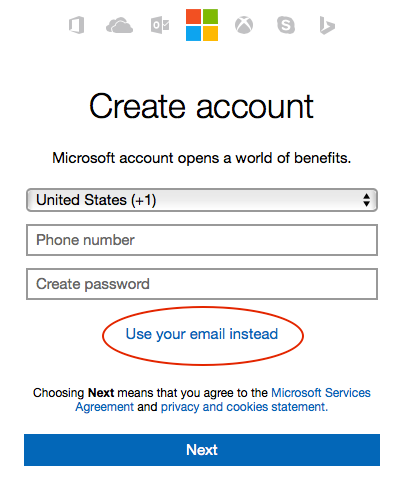 (Step 4) Enter the following information:
* Your e-mail address (the main one that you already have in the Cy-Fair directory)
* The password you want to use.
* Uncheck the "Send me promotional emails from Microsoft" checkbox
NOTE: Do not click either the "Use a phone number instead" or "Get a new email address" links.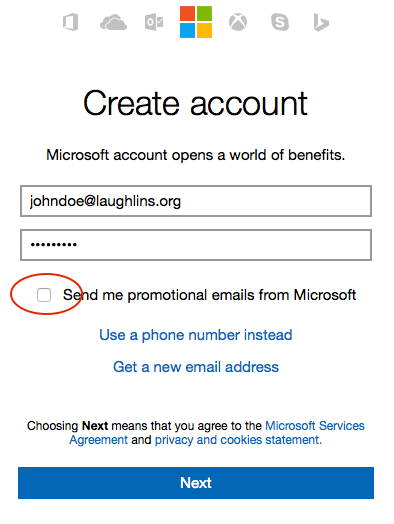 (Step 5) Click "Next". Microsoft will send you an e-mail with a confirmation code that you need to enter.
(Step 6) Enter the confirmation code: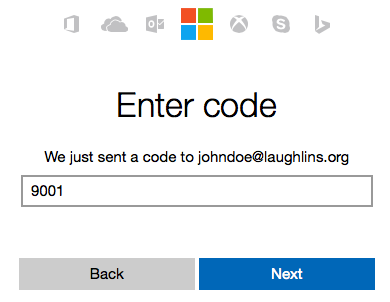 That's all you have to do! You do not need to provide any additional personal information. The only thing the account will be used for by Cy-Fair is for logging into the members web site.
Once you have the account created, you will be able to log into http://cyfair.info. If you aren't currently logged-in, you'll be prompted to click the "Facebook" or "Microsoft" or "Google" button. Click "Microsoft", then login using the e-mail address and password you just setup. (You might not even have to do this again once you've created the Microsoft account, as you will probably already be logged in)
After you have logged into cyfair.info on a device, you should not be prompted to do so again until something happens like your browser cache is cleared.
Please let me know if you run into any issues.
- Clark